I'm watching the weather situation closely. If snow or ice is possible, we will reschedule, but right now no ice is predicted so we are GO for starting the Stillwater 200K on 4 February. Event information and registration is here. Also be sure to read the pre-ride report.

Saturday wil be a COLD start, possibly in the single digits, then rising through the morning as lots of sunshine lifts temperatures up reaching the mid 20s.
Even 20F is still pretty cold. Such temperatures require special gear and technique in order to ride safely. Here are some tips for cold weather riding that I've collected over the years. Even experienced cold weather riders may find something to learn here, so please read them all through.
Exposed skin must be covered. Gloves (mittens and/or bar mitts) booties or winter boots. Tall, thick socks. A good balaclava is a must. If you have a windproof neoprene 'clava with a nose covering, this is the best. Pull up the balaclava high leaving a slot for your eyes, and cover your eyes with glasses or goggles. Pull it down to cover your neck. If you glasses fog, mess around with the clava, glasses, and breathing pattern. You need to find a way to ride with clear glasses and protected skin. Any exposed skin is at risk of frostbite.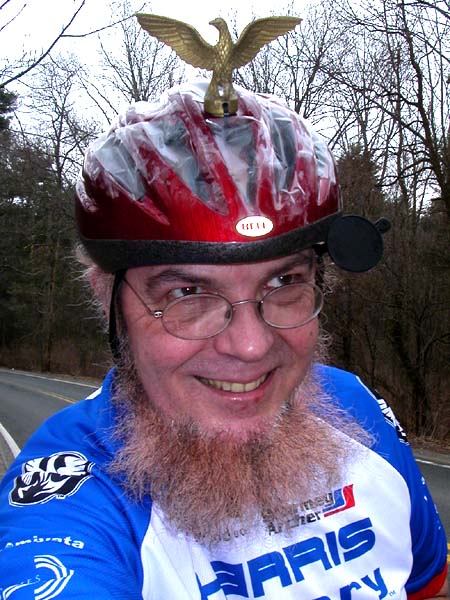 Fasten your helmet strap after settling your balaclava and glasses. Don't try to adjust a balaclava through a tight helmet strap. Put the strap on last. Seal up the holes in your helmet with tape or a helmet cover. The
eagle "panache"
is optional.
Once all your skin is covered, don't overdress. You don't want to sweat and make yourself wet. It's a delicate balance. Be ready to add or subtract core layers to keep your temperature regulated and to dry out inner layers when it's safe to do so. This ride has two very significant climbs followed by long descents. Strip layers before the climbs; add layers at the summit.

You need to find a way to carry water without it freezing. Inspired by a suggestion from Andrew Mead, I use a camelback filled with hot water from the sink (not boiling). I wear this under my jacket, route the hose under the jacket and only expose the drink nipple while drinking. After taking a drink I blow the liquid back into the bag. The hot liquid helps keep me warm inside and out.
I also carry a thermos filled with hot sweet tea. My thermos is metal so I cover it with an old sock to keep it from rattling in the bottle cage. I don't carry any ordinary water bottle -- they freeze.
Carry an emergency layer -- like a puffy down parka or some other light, packable insulating layer. Should you have a puncture and spend time on the side of the road, you will be GLAD you had this layer. It's also good to carry a space blanket.
Chemical hand and foot warmers work great! Buy some today before Home Depot and Lowes sell out on Friday. Two sets is more than enough for a 200K. Even just one set can help a lot. Don't use them till you need to, but when you need warmers you NEED them.
It will get dark before many of you finish, so be sure your lighting system works in the cold. If you rely on a cell phone, keep it in your jacket rather than letting it freeze. Many phones and other battery powered electronics will lose charge fast when cooled to single digit temps.
And lastly, remember this if something starts to go wrong: if you have signs of hypothermia, frostbite, uncontrollable shivering, dizziness, mental fog, or other cold related issues, find a warm place with hot food and get yourself right before continuing.
Riding in the winter can be amazing and rewarding if you take heed of the conditions and mitigate problems quickly. Stay safe out there. I wish you all a great ride.